FACILITY TOUR
POOL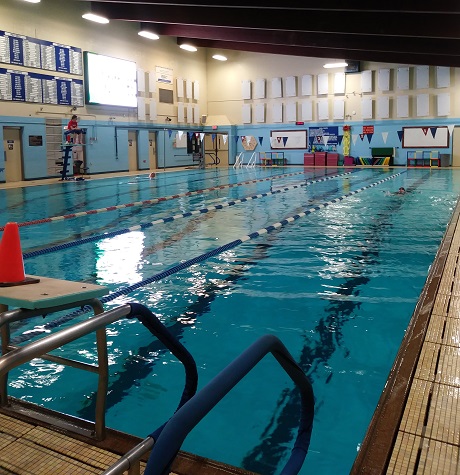 The YMCA has a 6-lane 25 meter pool. The shallow end has a depth of 3.5 foot and the deep end has a depth of 12 foot. There are built in steps, a hydraulic pool lift and portable steps for entering the pool. Lap (up & back) 32 = 1 mile. Pool temperature is 83 degrees.
CLIMBING WALL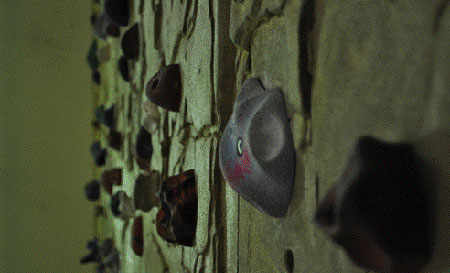 Open Climbing Wall Hours
Day: Mon/Wed/Thurs
Time: 5:30 - 8:00 pm
The YMCA has an indoor climbing wall available for our members to use during open climbing wall times free of charge. Must have a signed climbing waiver on file. Stop at Front Desk for a BLUE climbing band.
RACQUETBALL COURTS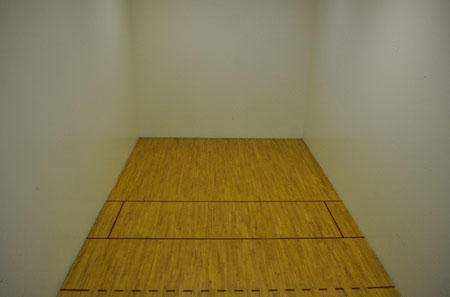 The YMCA has 2 racquetball courts available for use of our members. Maximum reservation is two (2) 1 hour slots per day person. You may reserve up to one (1) week ahead of time. Reserved courts are considered available after 15 minutes if the person reserving the court fails to show up at the designated time. Wearing protective eyewear is strongly recommended. All courts will run on hour time slots. Age Requirement: 14 and older
GYMS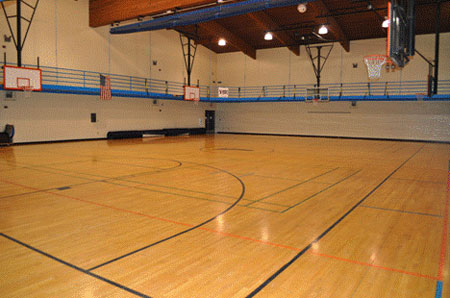 The YMCA has 2 full size gyms available for use. Refer to 'Healthly Living/Gym Schedule' tab for gymnasium availability.
Private rental = $100.00/hour full gymnasium. Contact Chris Dolan, Wellness Director for availability and/or to reserve.

FUNCTIONAL FITNESS ROOM

The Functional Fitness room has state of the art equipment to help with core stability, balance, agility and muscle strength. Register for a structured class or work out on your own.
OUTDOOR FUNCTIONAL TRAINING BOX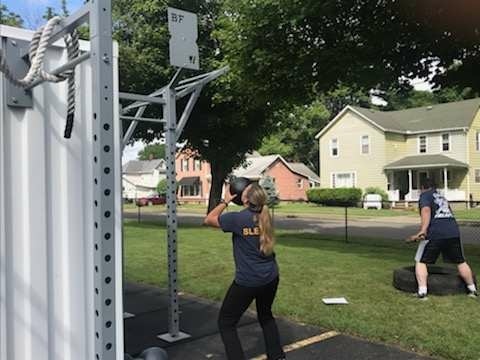 All the fun of the Functional Fitness room, located outdoors. The OFTB is open for use from daylight - thru dusk, weather permitting. Equipment includes; Olympic bars and plates, kettlebells, dumbbels, medicine balls, TRX straps, jump ropes, agility ladders, battle ropes, plyometric platforms, dip stations, pull-up bars and more! Contact our Wellness Department for a training.
GROUP EXERCISE ROOM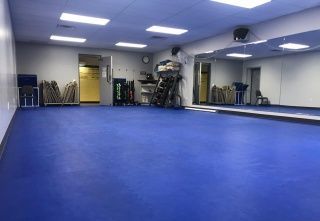 Our Group Exercise room houses many of our fitness classes. A large screen TV is also available for streaming workout videos. Members may register at Front Welcome Desk for a 1 hour time slot.
CYCLE STUDIO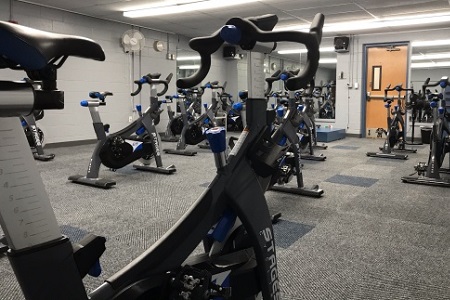 Group cycle classes are led by YMCA trained instructors. Classes are limited to sixteen (16) participants. Pre-registration is required. We offer 30, 45 and 60 minute classes. See "Adult Fitness" tab for additional details.
HEALTH AND FITNESS
INDOOR TRACK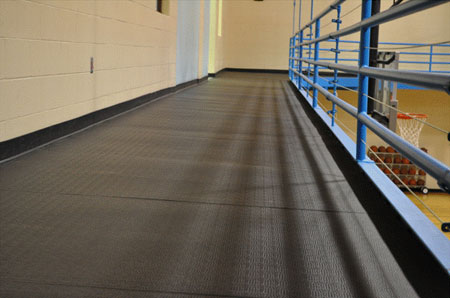 Features:
The YMCA's 10.5 lap = 1 mile indoor walking/jogging track is open during regular building hours.
Track Rules & Regulations:
Strollers are not permitted on the track
Youth age 12 and under are not permitted on the track from 4:30 pm – 7:00 pm weekdays
FITNESS ROOM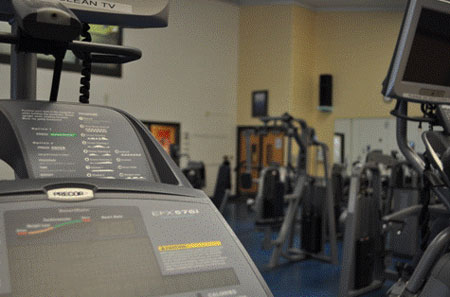 Features:
20 state of the Precor strength pieces
30 Precor cardio machines
ALL CARDIO PIECES HAVE THEIR OWN 15" SCREEN TVs (Preva Token available for easy login)
3 Expresso Bikes (you may register at: http://www.expresso.net)
Fitness Room Rules & Regulations:
All members wanting to use the Fitness Room must first:
Complete a medical questionnaire
Complete a FREE orientation course to acquaint you with equipment and start a basic routine
NO-ONE UNDER THE AGE OF 13 IS PERMITTED INSIDE THE FITNESS ROOM AT ANY TIME
WIPE DOWN EACH MACHINE AFTER USE
WEIGHT ROOM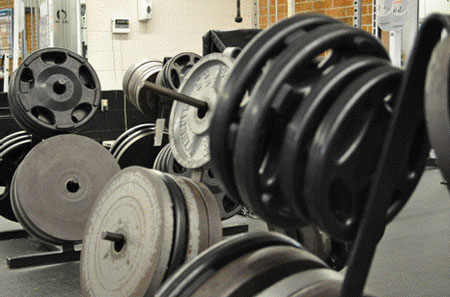 Features:
Complete range of free weights
Cable Crossover Machine(2)
Smith machines
Seated and standing calf raise
Incline, decline, and flat benches
Hammer Strength Incline
Abdominal slant board
Decline chest press
Leg extension and curl
Heavy bag
Speed bag
Rotary Torso
Abdominal Crunch
Chest Flye Machine
Weight Room Rules and Regulations:
Room is free to all members 13 and older
Ages 13-15 must go through training with a YMCA staff member before using the room.