BE WELL COLLABORATIVE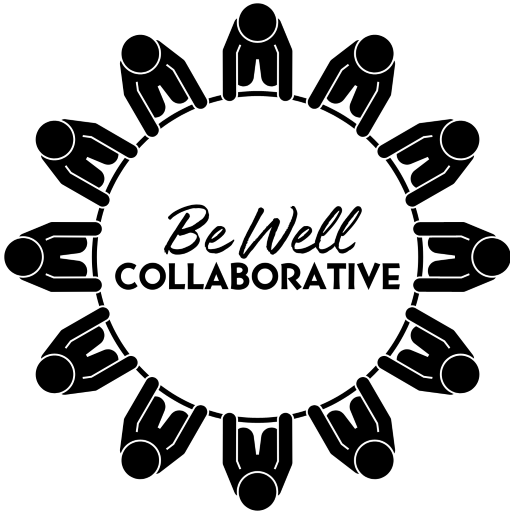 INTRODUCING...Be Well Collaborative; working together for our community's health & well-being. We are a collective group of like-minded agencies, businesses, and individuals that have joined together to create a network of support within our community
MISSION - Be Well Collaborative elevates wellbeing among all in mind, body, and spirit by fostering communication and collaboration.
VISION - Be Well Collaborative is the hub connecting people in a thriving community.
VALUES - Be Well Collaborative is committed to the following Core Value that provide our foundation with and for our community.
The first of our Core Values is to COOPERATE ACTIVELY by engaging to bridge gaps and create a network of support.
Second, we INTERACT OPENLY by setting aside bias in all interactions to ensure progress.
Third, we ensure COMMUNITY ADVOCACY through the incorporation of teamwork with and for an equitable and inclusive community.
Fourth, we continuously IMPROVE & GROW in mind, body, and spirit to achieve ongoing development of mindset & lifestyle.
Be Well Collaborative was initiated by the Warren County YMCA to address mental wellness using a community care model. Through our growth and development, we have adjusted our approach to focus on mental wellness using whole health wellness for all. Member has grown and goals adapted to meet the needs of our community.
We meet monthly to learn about resources in our community and avenues to work together. Action Teams with specific goals meet separately to work with specific community groups and targeted tasks.
Working collaboratively, we strengthen the existing network of services, support, and connections so everyone can be well in our community.
Join us to learn more, volunteer, and help improve the well-being of our community. We meet on the 3rd Thursday of every month from 11:45 am - 1:00 pm at the Warren YMCA Program Room #4.
The group decided to create a new website called Warren County Youth Network (https://www.warrencountyyouthnetwork.org/), created in an effort to share activities and resources with the youth of the county. Click on link and check it out! The group has also worked to connect resources and network agencies to provide better services to residents.
Erin Wallace is the Y's Whole Health Wellness Coordinator and may be reached at 814-726-0110, ext. 1100 or email: erin@warrenymca.org.
FALL 2023

WELLNESS WEDNESDAYS
We are kicking off a new monthly program all about health and wellness. We will work through various topics to support and develop your Whole Health Wellness. With a better understanding and avenues for self-application you can work through the steps to identify a personal plan based on self-determined goals and action steps. Join us for one or all four sessions Wednesday mornings this fall. Open to any age.
(Evening sessions and ongoing dates may be scheduled based on interest.)
Instructor(s): Erin Wallace and partner agencies
Location: Warren YMCA Program Room #4
Time: 10:00-11:00 am
Day: Wednesdays
Cost:
$5.00 per class/Members
$10.00 per class/Non-members
Session #1: Wednesday, September 13th
Whole Health Wellness Understanding a Holistic Approach to Health & Wellness
Session #2: Wednesday, October 11th
Nutrition & Diet; combatting illness risk and increasing wellness through diet. Diabetes prevention steps.
Session #3: Wednesday, November 8th
Brain-Body Connection; understanding dementia, mental health and other brain wellness.
Session #4: Wednesday, December 13th
Heart of the Matter; heart health strategies and techniques to improve or prevent cardiac illness.